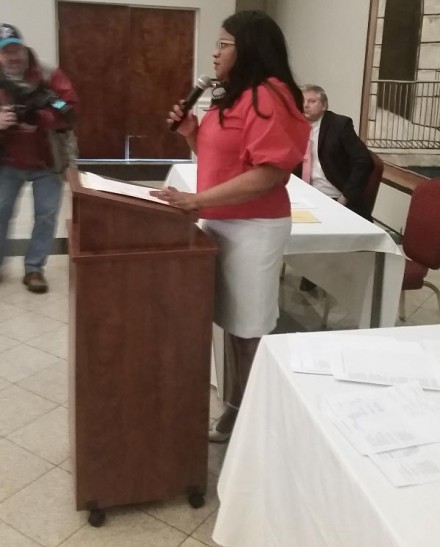 State Rep. Charlie Stallworth has been beaten back twice in a matter of days. On Saturday his long-shot candidacy for lieutenant governor running with Democrat Guy Smith was derailed at the Democratic Party convention. Tuesday night he faced an immediate concern after members of the Democratic Town Committee in the State House district Stallworth has represented for seven years endorsed his opponent Shante Hanks, a former staffer for Congressman Jim Himes. Stallworth's former political base support backed his opponent in some changing winds of the district.

If there's any lingering friction between Stallworth and Mayor Joe Ganim who've had an on-and-off relationship it did not register Tuesday night at Testo's Restaurant. The mayor's political supporters backed Stallworth while Hanks received the support of 135th District Leader Steve Nelson and town committee members. The vote was 9-7.
Connecticut's 126th State House District covers a portion of the North End, including the working class Whiskey Hill area and cuts across the city to the Upper East Side taking in the Hooker district. Two years ago school board member Maria Pereira waged a close primary against Stallworth who must secure signatures from five percent of registered Democrats in the district that should not be a problem. The larger problem for Stallworth is the disconnect he faces from Nelson who has shown significant strength delivering candidates he supports in the Wilbur Cross and Hallen precincts. Pereira, two years ago, ran strong against Stallworth in her home base Hooker precinct, but also in the Park City Magnet precinct that includes voters in Lake Forest. Two years ago Wilbur Cross was the factor for Stallworth, but now he's facing Hanks who enjoys Nelson's support in Wilbur Cross.
In seconding Hanks' nomination Nelson declared "We will not support candidates based on friendship no longer," adding (Stallworth) only shows up during reelection.
Monday night Hanks was front and center in a show of support for State Senator Marilyn Moore's endorsement. Moore is popular in the heavily African American Wilbur Cross precinct.
Addressing political operatives at Testo's, Hanks declared "This means the leadership of our great city recognizes the need for new lifeblood to fuel the growth needed in Bridgeport. I vow to be the change we want to see. I believe your resume should read like a memoir narrating your life's work and your work should show your passion. My work has been dedicated to education and service."
Hanks pointed out her work as a staffer to Himes addressing affordable housing, veterans issues and health care assistance.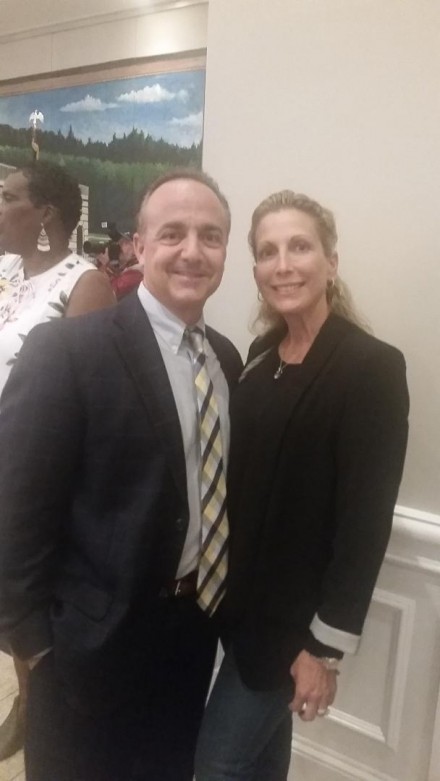 "My record proves I stay on board and don't abandon my people at the first sign of trouble. I don't flip flop or waiver in the sight of adversity. I was a cheerleader at Central when Harding was winning championships but I cheered with pride … Send this hometown girl to Hartford to represent Bridgeport and I promise you I will bring back a victory for Bridgeport."
Prior to the vote Hanks was circumspect. She said the endorsement was important for her because it sends a message about the quality of the incumbent's work.
Stallworth, a city minister, and Ganim have had a mixed-bag relationship, although key to Ganim's comeback as mayor. It was in Stallworth's East End church on January 1, 2015 when Ganim issued his first public apology following his 2003 conviction on public corruption charges. Stallworth, one of the faces of the campaign, was an early Ganim appointee, then demoted in pay. How to describe Ganim and Stallworth? Break up, get back together … break up, get back together. And so it goes in city politics.
The Hanks-Stallworth battle was the highlight of the evening. The city's other State House members Steve Stafstrom, Jack Hennessy, Chris Rosario, Ezequiel Santiago, Andre Baker were also endorsed.
Also endorsed Tuesday night Probate Judge Paul Ganim to another four-year term 20 years after his first election and Democratic Registrar Sandi Ayala, a survivor in city politics.