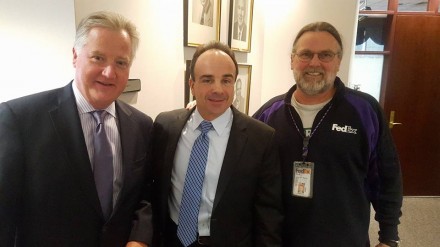 For all the hand-wringing that took place during the campaign and after Joe Ganim's comeback election from outside the city, high profile pols are not afraid to talk to Joe, meet with Joe, take pictures with Joe, issue press releases with him: U.S. Senators Dick Blumenthal and Chris Murphy, Congressman Jim Himes, the city's legislative delegation much of which did not support Ganim. Heck, even Governor Dan Malloy historically not buds with Joe has loosened up a bit. What gives? Pragmatic politicians who understand there's no sense battling with leadership of the state's largest city. And a mayor who knows how to work relationships.

Look, it's early in JG2, and way too soon to judge how it will shake out, but Ganim understands the way to maximize revenues and keep taxes down is through relationships with the state legislature that decides how much moolah comes to the state's largest city. Ganim's predecessor Bill Finch spent seven years in the State Senate before his election as mayor in 2007, but everyone who toils in the state capitol will tell you they've seen way more of Ganim than Finch in the early months of their likewise positions.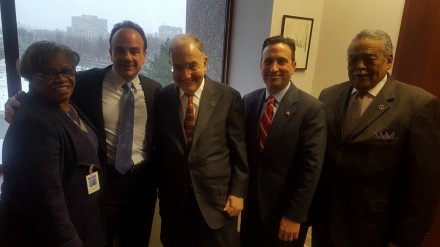 Ganim spent most of the day Tuesday in Hartford schmoozing legislators and working his urban agenda, meeting with House Speaker Brendan Sharkey, Senate President Marty Looney and Senate Majority Leader Bob Duff. And photo ops with the two Bridgeport state senators who did not support him. What gives?
Translation: "I need money for my first budget!" And it's a tricky budget loaded with questions as reval kicks in.
In about six weeks Ganim will submit his first budget of JG2 to the City Council. What happens in Hartford has huge impact in Bridgeport. If the legislature tinkers with this and tinkers with that, millions can be deferred one way or another. Ganim's relationship with the city's eight-member legislative delegation–all up for reelection this year–to shepherd through city needs is key, as well as getting on the phone with Sharkey, Looney and Duff.