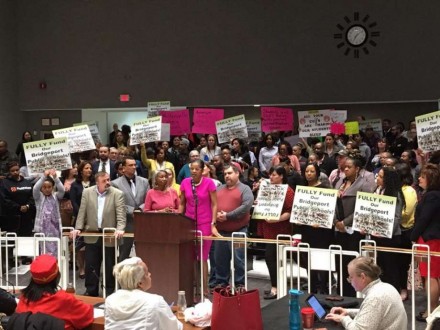 Another year, another public hearing, another packed City Council chambers filled by education advocates urging more money for schools. School board members, parents and educators pleaded city councilors for additional funds Tuesday night as the school system faces rising costs against state and federal grant cuts. Mayor Joe Ganim's $561 proposed budget calls for no tax increase. Of that amount $245.7 million is slated for schools, a majority of that funded by state and federal tax dollars.

CT Post reporter Linda Conner Lambeck has more:
"Thirteen million dollars–Do you know what that is going to do with our district," Hernan Illingworth, a city school board member said. "Those cuts are going to destroy our district."

Illingworth was flanked by fellow board members who often don't get along and sometimes fight. On this issue, they stood united.

Board Chairman John Weldon told members of the Council's Budget and Appropriations Committee that a cut of this magnitude, coming after three consecutive years of similar cutbacks will cripple a school system already on the brink.

"Who would raise a family here knowing the school system is so strapped it can barely hold its head above water," Weldon said.
Full story here.