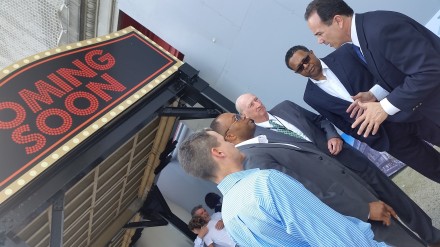 City Council members are considering a seven-page memorandum of understanding with New York-based developer Exact Capital to revitalize two closed Downtown theaters and a hotel as well as building three housing towers as part of a $400 million three-phase plan. A public hearing will also be scheduled. Approval by the council allows the city to hammer out a larger Land Disposition Agreement with the developer. Some councilors assert they should approve the LDA as well.

CT Post reporter Brain Lockhart has more on this issue:
A deal allowing a New York developer to rehabilitate a pair of historic Main Street theaters, an old hotel and to build residential towers on other prime city-owned land downtown is being called "simple and straightforward."

It is so simple and straightforward that Mayor Joe Ganim's administration–eager to move quickly on the project–does not believe the final contract requires the City Council's review and vote.

Whether the 20 council members insist they have a larger role remains to be seen.

"I don't agree with it," said Councilwoman Milta Feliciano, a member of the contracts committee. "Bring the full contract in front of us. Give us a chance to read it. Then let us make a decision."
here.