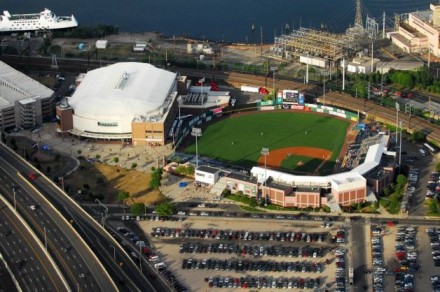 The Bridgeport Bluefish baseball team, after a 20-year run, has been benched for a music amphitheater whose promoters expect to produce 25 concerts in a six-month season opening in the spring of 2019 following a $15 million renovation of the Ballpark at Harbor Yard. Mayor Joe Ganim announced on Monday that major concert promoter Live Nation and SportsCenter of Connecticut led by Howard Saffan, have partnered for music performances "for this next step in revitalizing our city." The city, which owns the ballpark, issued a request for proposals several months ago. Bluefish ownership was one of three entities that responded.

Saffan announced Live Nation and his company will pay for the renovations transforming the 5,300-seat venue into a warm-weather amphitheater.
"Bridgeport is excited and ready for this next step in revitalizing our city with positive development and providing music entertainment by bringing in a partner and company like Live Nation," said Ganim in a statement. "We've enjoyed twenty years of successful entertainment with Bluefish Baseball and thank all that the Bluefish and owner Frank Boulton have done for our community. This next chapter of Bridgeport's future is bright with the benefits and experience of a world known entertainment company like Live Nation, and the historic success of Saffan as a venue operator, to bring in concerts and shows that will certainly put Bridgeport in the forefront as a destination place for family and friends."
"This is a great boutique amphitheater for Bridgeport. We are looking forward to bringing great artists to Bridgeport," said concert promoter Jim Koplik, a purveyor of musical entertainment across Connecticut for decades.
"It is an honor to be awarded the RFP," said Saffan in a statement. "Harbor Yard Amphitheater will be a "game changer" for the City of Bridgeport. The thought of hosting 25 concerts per summer is incredibly exciting for both the local business community as well as the concert goers from near and far. To have a partner like Live Nation insures the success of our state of the venue."
Live Nation is a mega concert promoter including multiple venues in Connecticut. Why would the city select a concert promoter next to the arena that can hold upwards of 10,000 for concerts? The arena books very few concerts per year. It relies on its partnership with Sound Tigers hockey as the anchor tenant including affiliation with Fairfield University basketball. Saffan was president of the Sound Tigers from 2005-2015. The amphitheater proposal is seasonal so it allows for winter concerts in the arena.
What does this mean financially for the city? Details have not been released. More information is expected at a news conference on Thursday. And why couldn't concert promoters strike a deal with the Bluefish to fit both? An amphitheater-like roof is part of the renovation equation to accommodate weather and ambiance. Not a fit for baseball.
Bluefish baseball was an instant hit during its opening season in 1998. It was started by a business coalition that included Jack McGregor, Mary-Jane Foster and Mickey Herbert, the current president of the Bridgeport Regional Business Council. In its first three seasons the independent league team often sold out weekend games with a capacity of more than 5,000, a hot ticket during a roaring economy. Attendance faltered in the ensuing years and it's been hard for a variety of ownerships to match the magic of the initial years.
The land hosting the Bluefish had been owned by Donald Trump who deeded the property to the city in an exchange for forgiving back taxes. Trump purchased the parcel as a potential site for a casino.
Statement from Bluefish ownership:
"We are proud of the 20-year run the Bridgeport Bluefish have had," said Bluefish principal owner Frank Boulton. "While we are disappointed the City decided to turn the ballpark into a 29-date concert venue, we wish them the best of luck, and we hope that all Bluefish fans will come out to support their first-place team as they drive towards a championship."

The Bluefish have welcome over three million fans to The Ballpark at Harbor Yard and provided the Southern Connecticut region and City of Bridgeport an affordable family entertainment option, while employing hundreds of the City's residents during their time in the "Park City." The team has hosted concerts, charity events, car shows, professional lacrosse, celebrity sporting events, University of Bridgeport baseball, Sacred Heart University baseball, the FCIAC high school baseball championships, professional soccer and more, in addition to hosting 70 regular season Bluefish games each season. In all, the Bluefish have hosted over 2,000 events in the 20-season history at The Ballpark at Harbor Yard.

The Bluefish have 20 remaining home dates in the ballpark, with upcoming promotions highlighted by Thurman Munson Bobbleheads on August 9, the Human Cannonball Show on August 11 and the final Fireworks shows in Bluefish history on Saturday, August 12 and Saturday, September 16. Tickets for the final Bluefish games at The Ballpark at Harbor Yard are available by calling 203-210-BLUE, by logging on to BridgeportBluefish.com or by visiting The Ballpark at Harbor Yard Box Office.