#bridgeport boe member maria pereira didn't get her way. Her response as meeting continues pic.twitter.com/os54Pms5zx
— linda lambeck (@lclambeck) June 22, 2017
Is Maria Pereira the school board's new DJ? What was once a relatively solid school board coalition could be experiencing a meltdown following Pereira's unique music-attention strategy–blasting the song "Fight the Power" on her cell phone during a committee meeting–after items she wanted to discuss were rejected by member Howard Gardner. CT Post education reporter Linda Conner Lambeck was there to chronicle the meeting in words and video. Board members Ben Walker, Gardner and Sauda Baraka were not pleased by Pereira's ear-splitting confrontation. While Pereira has battled an assortment of board members, this time she rattled a coalition that has generally been on the same page. Pereira asserts, however, the coalition hasn't been close for some time.

From Lambeck's story:
As the music blared, Gardner and board members Ben Walker and Sauda Baraka attempted to ignore her, calling school staff and school principals to come up closer so they could try and shout over the booming music.

Unable to get Pereira to stop, Walker moved his seat so the cell phone wasn't blasting in his ear. He said it was causing him physical pain.

"I'm fighting the power," Pereira responded. "This is about breaking bylaws."

"Ben, it's a reflection on her," Gardner told Walker.

"Your childishness is just beyond me," Walker told Pereira as he moved.

When the lyrics of the music became profane, board Vice Chairman Sauda Baraka objected.

"I can not take the language," Baraka said. "I am getting ready to call somebody to deal with it."

Pereira then switched to loudly reading from emails she had sent Gardner. In them, Pereira told Gardner he was infringing on her rights as a board member.

"It was intentional, purposeful and not OK," Pereira told Gardner. She went on to call him lazy, outrageous and a coward. By the end of the diatribe, her voice was raspy.
Full story here.
Pereira, who is also the Democratic leader of the 138th District, wrote in the OIB comments section on Thursday, "There is not a single school board member up for reelection that should seek reelection or be reelected. Not one. They are all irresponsible, lazy, and unwilling to put in the work necessary to help our over 21,000 students."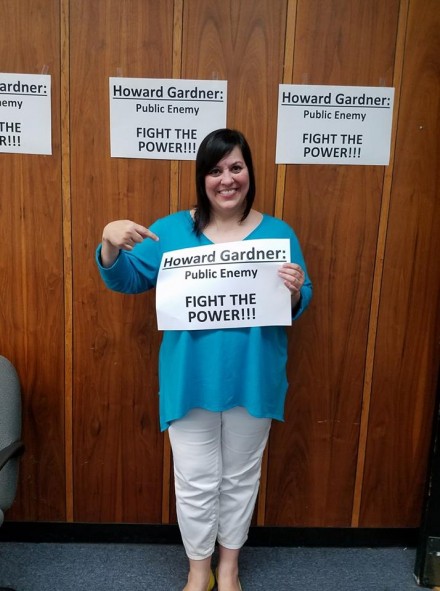 Photo above included this passage from Pereira:
When you volunteer significant time to help our children, families, and community, don't ever let those that do nothing meaningful to help others disrespect you.

If you won't stand up for yourself, don't expect others to stand up for you. Period.
OIB has reached out to Howard Gardner for a comment.