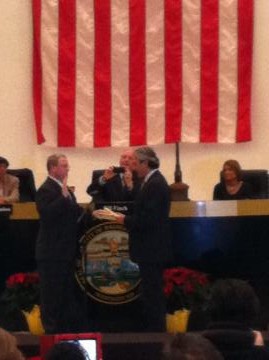 Joe Ganim's first pass at his so-called watchdog office of Government Accountability is about as flaccid as the city's Ethics Commission that has done nothing to monitor the conduct of public and elected officials in the past decade. Ganim, trying to live up to a campaign pledge assuaging concerns about his 2003 conviction on corruption charges, has proposed to appoint the people who could conceivably investigate him. Really? So much for an independent body. Just as disingenuous is City Council President Tom McCarthy's new religion about checks and balances in government after rarely hearing a peep from him when he was on the public payroll working at the pleasure of the mayor. How convenient.

"When you get to the world of potential criminal complaints and ethics complaints and vetting of those, I think independence is of the utmost importance," McCarthy is quoted by the CT Post's Brian Lockhart.
Funny, McCarthy, as council president for eight years with the dual role of deputy director of Labor Relations, earned about $1 million at taxpayers' expense as a loyalist for then-Mayor Bill Finch. When Finch was paying McCarthy, the council president never challenged the mayor publicly. Now that McCarthy's off the public payroll courtesy of a $35,000 exit package that included two years of health benefits, he pontificates watchdog in chief.
McCarthy's contemplating a primary challenge of Democratic State Senator Marilyn Moore who spoke often about McCarthy's conflict as council president working at the pleasure of the mayor in defiance of the City Charter. Yes, Only In Bridgeport did the head of the legislative branch work at the pleasure of the mayor that in any other likewise situation be it state or federal government would be against the law. During Finch's eight years as mayor, McCarthy never challenged Finch. Moore called him on it. For years, City Attorney Mark Anastasi, rather than enforcing the charter, rationalized that state law allows city employee councilors. Moore defeated in a 2014 primary incumbent Anthony Musto who was in the pocket of the political establishment as a major obstacle in Hartford to a government reform bill correcting checks and balances in Bridgeport government. McCarthy often called Musto "his guy."
In her first year as a state senator Moore achieved a major success persuading her peers to close the loophole on behalf of good government in Bridgeport. It was killed in the State House because House Majority Leader Joe Aresimowicz works for a union that wanted a cozy relationship with McCarthy who approved union contracts both in his capacity as deputy director of Labor Relations and City Council president. Ganim worked out a severance package with McCarthy to pacify a campaign pledge to correct conflicts of interests in government. This was on top of McCarthy receiving $14,000 in a retroactive pay raise approved by Finch, in his last days as mayor, with no "independence" from McCarthy.
This could be a fascinating race should McCarthy dare challenge Moore. Hmmm, let's see how the Moore mailers could read against McCarthy in Bridgeport, Trumbull and Monroe: Mac Attack, he raised taxes, padded his paycheck, violated home rule, promoted conflicts of interest. Want this Mac at your back?
And as for Ganim, where is Ed Adams, the retired FBI agent who investigated Ganim then provided Ganim cover on the campaign trail with his public support, in all of this? Is Adams being paid $90,000 a year to be window dressing? Based on the Government Accountability language that he helped structure, it looks that way.