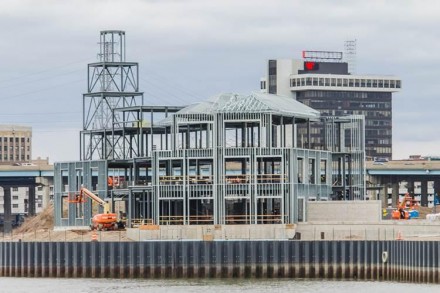 News release from Bridgeport Landing Development:
A Bridgeport marina development executive says a new state law his company lobbied for which exempts marine fuel dock owners and operators from paying Connecticut diesel fuel taxes will energize the marine industry. Bridgeport Landing Development, LLC President of Operations, Bob Christoph Jr. says the newly passed bill follows a federal law that allows for the sale of the tax-exempt fuel when strictly used for marine purposes.

For decades Connecticut marinas were at a disadvantage with their competing neighbor marinas in New York, Rhode Island and Massachusetts. The CT. Excise tax on diesel fuel (currently 41.7¢/ gallon) made it impossible to compete with neighboring state marinas which in many cases were only 10 or 15 miles away. Now CT. marinas finally have relief from this burdensome tax and will be able to be competitive in fuel sales business. This will help drive marina customers to Connecticut Marinas thus creating more revenue and jobs in the State of CT.

Christoph says the bill which goes into effect July 1, 2018 will help marina operators such as his at Steelpointe Harbor. Steelpointe Harbor Marina will be built in Bridgeport within a year. "We believe the legislature got this one right because it will help Connecticut's marine economy and more than pay for itself through increased business in the state by marina owners, pleasure boaters, and the fishing industry." Thanks to Senators Frantz and Formica and the Bridgeport based development of Bridgeport Landing Development, LLC, this new bill will benefit all CT marinas and boaters in the entire region.

About Bridgeport Landing Development, LLC

Steelpointe Harbor boasts 2.8 million square feet of mixed—use harbor-side neighborhood development; major tenants include Bass Pro Shops, Starbucks, Chipotle and T-Mobile. BLD is currently constructing a 48,000 sf DockMaster Building and a 200 slip deep water marina and a Harbor Walk providing public access to the waterfront, various restaurants, entertainment and retail locations which will attract visitors from not only the greater Bridgeport Region, but tourists from across state lines.