Republican candidate for Congress John Shaban on Thursday did something very few GOP regional candidates for office have even thought about: he opened his campaign headquarters in Bridgeport in an effort to broaden his reach against four-term Democratic incumbent Jim Himes in Connecticut's 4th District.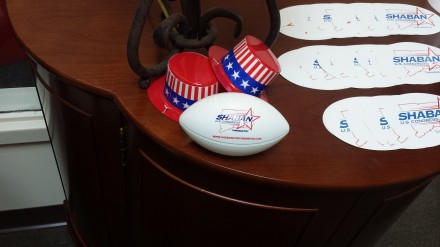 "Bridgeport is a prime example of the central thesis of my campaign," Shaban told party officials and supporters at his opening on Fairfield Avenue in Black Rock, the last bastion of neighborhood Republicanism in Connecticut's most populous city. "We have the resources (to turn around the city and region) but not the management … We can't fund the things we need to fund because of poor management … I'm a team guy," the former semi-pro football player added, "This isn't Democrats versus Republicans."
Challengers must always make the case to persuade voters to fire the incumbent. The only direct remark Shaban made about his opponent Himes was "He's a nice guy but a do-nothing guy."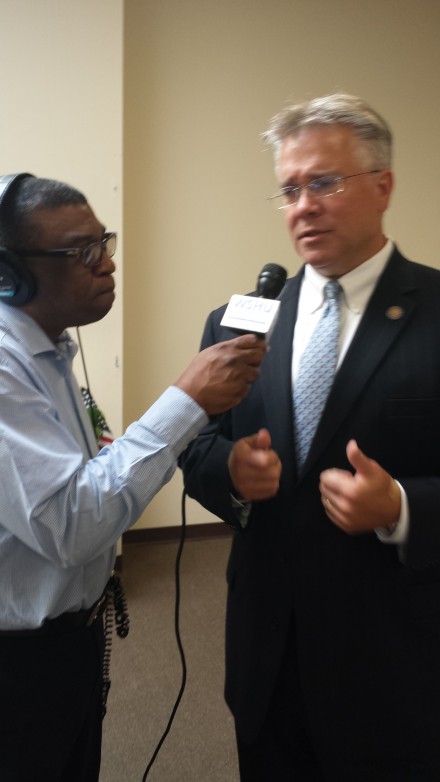 Shaban has not been bashful about reaching out to Democrats in his race. He is friends with Mayor Joe Ganim through their children's athletic activities. Ganim did not attend the headquarters opening, but he has joined Shaban for events in the city. Shaban even invited his State House comrade Charlie Stallworth and Democratic Town Chair Mario Testa to the opening. They did not attend. Shaban represents suburban communities, Easton, Redding and Weston in the state legislature.
Historically the district is decided by the dominant bloc of unaffiliated voters. The district runs from Bridgeport to Greenwich taking in the state's gold coast and runs north into suburban communities. It also includes cities Norwalk and Stamford.
Earlier this week Shaban utilized the city's dormant Congress Street Bridge as an example of Himes' federal inaction. Eight years ago Himes used it against Republican incumbent Chris Shays who crashed his challenger's press opportunity. In doing so Shays elevated the issue and Himes' stature as a challenger. But eight years later, although Himes landed dough to remove the outdated bridge, there's still no bridge replacement connecting Downtown with the East Side.
In his nearly eight years representing the district, Himes has successfully lobbied millions in federal dollars for the Steel Point redevelopment area that includes Bass Pro Shops as the anchor tenant as well as funds for a second train station for the city that was proposed by then Mayor Bill Finch. The station is a long way off, if it becomes a reality.
Himes' spokesman Rowan Kane says the incumbent has also delivered "funds for more cops and firefighters, and flood resiliency money for the South End. People who have been around both before and after Jim took office can see the overwhelmingly positive difference he's made to the city."
As a Republican representing the district for 20 years, Shays never performed below 30 percent in Bridgeport until 2008 when he was swept up in the Barack Obama electoral storm. Republican operatives believe if they can elevate Shaban to a 30 percent threshold in Bridgeport, the district is back in play. Money is a factor. Himes is well financed while Shaban is challenged to stay competitive. Donald Trump leading the GOP presidential ticket has some traditional Republican donors placing a lock on their wallets.