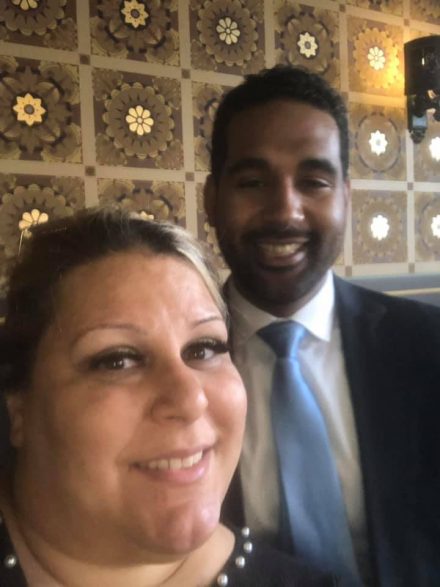 Tina Manus, a campaign volunteer for Dennis Bradley's 2018 race for State Senate that led to his indictment on campaign finance wire fraud charges, entered a guilty plea in federal court on Tuesday for her role in the scheme to obtain fraudulent public financing on behalf of the race.
Manus, a former Stratford Town Councilwoman, has agreed to cooperate with the government and will likely be a witness at Bradley's trial scheduled to start in early December. Manus had been a major advocate of Bradley's political future. Last week she requested her name be taken off the Democratic voter rolls in Stratford.
This is bad news for Bradley, the shooting star with mayoral ambitions, just seven weeks from jury selection to begin Dec. 6. Manus is clearly cooperating with the government to limit her prison exposure in a high profile case. It also provides Bradley pause about his strategy moving forward–cut his own plea deal or roll the dice and prepare for trial?
Unclear if this new charge in the case delays the start of jury selection.
The government has lined up a number of campaign operatives who will testify to corroborate allegations in the indictment.
Manus is the third person charged in the case. Outgoing Board of Education member Jessica Martinez, who served as Bradley's 2018 campaign treasurer, was also charged with multiple counts of wire fraud as well as providing false statements to federal authorities.
Bradley's issues stem from his March 2018 announcement for State Senator at Dolphin's Cove in the East End.
According to the indictment, OIB advanced "an article stating that Bradley planned to announce his State Senate candidacy."
Highlights from the associated charges:
— Leveraging his law firm as a campaign front for what was clearly a candidacy announcement for state office on March 15, 2018 at Dolphin's Cove in the East End.
— Raising campaign money at the event in violation of state law.
— Directing campaign staff, covering his tracks, to falsify donation cards to reflect the fundraising did not take place March 15, 2018.
— Using $6,000 dollars of his own money, transferred from a personal law firm account, to pay for the Dolphin's Cove event, in violation of state law.
— Not reporting, as required by state law, the personal expenditure on campaign finance reports.
— Falsifying campaign finance reports to receive $84,140 of public dollars in aid of his campaign.
— Trying to do the same for the general election, but was rejected by the State Elections Enforcement Commission when it discovered numerous irregularities.
News release from U.S. Attorney's Office.
Leonard C Boyle, Acting United States Attorney for the District of Connecticut, and David Sundberg, Special Agent in Charge of the New Haven Division of the Federal Bureau of Investigation, today announced that TINA MANUS, 42, of Stratford, waived her right to be indicted and pleaded guilty yesterday before U.S. District Judge Victor A. Bolden in Bridgeport to a conspiracy offense related to her role in a scheme to obtain public funds for the 2018 Connecticut State Senate campaign of Dennis A. Bradley.

According to court documents and statements made in court, in 2018, Manus was a campaign volunteer for the Bradley campaign. Between March and October 2018, Manus conspired with Bradley, his former campaign treasurer, Jessica Martinez, and others to defraud the Connecticut State Election Enforcement Commission ("SEEC"), the Citizens' Election Fund, and the State of Connecticut by making misrepresentations concerning compliance with state election law and the requirements and restrictions of the Citizens' Election Program ("CEP"), a voluntary public election-financing program under which candidates can apply to SEEC for grants to fund their primary and general election campaigns.

Manus pleaded guilty to one count of conspiracy to commit wire fraud, an offense that carries a maximum term of imprisonment of 20 years.

Manus, who has agreed to cooperate in the ongoing investigation of this matter, is released on a $150,000 bond pending sentencing.

On May 24, 2021, a federal grand jury in New Haven returned an indictment charging Bradley and Martinez with offenses related to Bradley's 2018 run for State Senate. Each entered a plea of not guilty and is awaiting trial. Acting U.S. Attorney Boyle stressed that an indictment is not evidence of guilt. Charges are only allegations, and each defendant is presumed innocent unless and until proven guilty beyond a reasonable doubt.

his case is being investigated by the Federal Bureau of Investigation and prosecuted by Assistant U.S. Attorneys Jonathan N. Francis and David E. Novick.