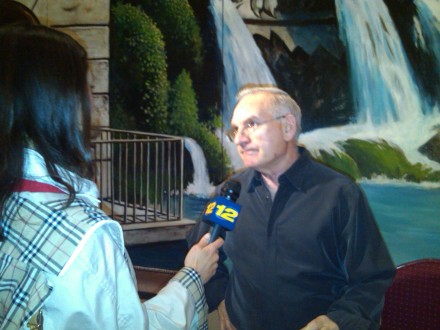 The battle of the barkeepers will not happen. Black Rock District Leader Danny Roach says he will not challenge Mario Testa for party leadership, setting up two more years for the North End restaurant owner when the 90-member Democratic Town Committee meets to pick a leader Thursday 5:30 p.m. at Testo's Restaurant.

You gotta hand it to Mario, even after all endorsed candidates for school board and City Council were smoked in primaries last September, the town chairman did not bleed support from party regulars. Roach's slate won by three to one in last Tuesday's town committee district primaries but the owner of Matty's Corner in Black Rock needed turnover in a couple of the primary districts to wage a serious challenge to Testa. The votes were not there. Mario knows how to schmooze his peeps.
Roach, a city police commissioner, also lacked the backing of Mayor Bill Finch who committed his support to Mario when he realized Testa easily had the 46 votes necessary for two more years.
Testa had served as town chair during the Joe Ganim mayoral years. He stepped aside in 2003 in the aftermath of the Ganim federal corruption probe, but reemerged as chairman in 2008 defeating the Finch-backed candidate for party leadership. Testa has never had a cuddly relationship with Finch, but the two have also not warred during Finch's more than six years as mayor.
This is a gubernatorial cycle year. Testa will now focus on state legislative races and the contest for governor. Dan Malloy will need a mighty win in Bridgeport and other cities to secure another four-year term.
Finch is up for reelection next year.