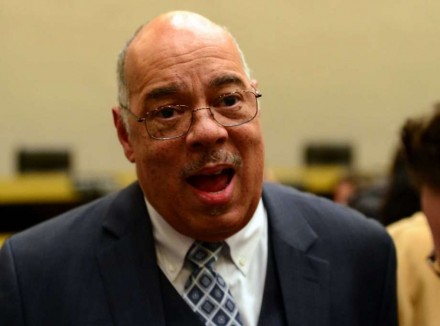 Mayor Joe Ganim's public safety consultant Wilbur Chapman, hired at $120,000 per year to reel in police overtime, had trouble doing that very thing when he was Bridgeport police chief even though he had 100 more sworn officers at his deployment disposal, according to a review of overtime statistics and staffing levels provided by multiple police sources.

In 2004, for instance, Chapman's last full year as chief, Bridgeport had 15 homicides, 471 sworn police officers and Chapman spent $8.3 million in overtime. City fiscal hawks argue adjusted for collective bargaining raises, that overtime nut would amount to $10.5 million today.
In 2016, Bridgeport had 10 homicides, 351 police officers and spent approximately $10 million on police overtime. With a new class of recruits on board, current city police staffing is now 375. The city budgeted $5.5 million for overtime for the fiscal year that began July 1, 2016. Most of that is gone.
Ganim's hand-picked Police Chief AJ Perez is receiving criticism for the bloated overtime spending in an understaffed department, but some city police personnel protest, Chapman was hired to keep overtime in check. What happened? Perez says he has launched a renewed effort to control overtime.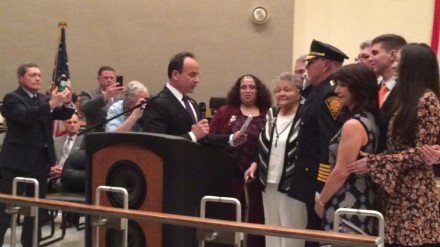 According to one police source, when Chapman was chief "his answer to any crime trend was to throw overtime at the problem until it subsided … Since we spent less on overtime than Chapman, had fewer police officers, and experienced 50% less homicides, just what is Chapman doing for a $2500/week consulting fee?"
They also argue, when factoring each police officer is worth approximately $100,000 between salary and benefits, and the department is down nearly 100 police officers, the city realizes a $10 million savings just on police personnel vacancies alone. It is far cheaper, they insist, to pay overtime than to hire a new police officer.
It raises the question, however, how physically and emotionally strapped are police personnel as a result of the overtime commitment?
According to deployment statistics, Chapman as chief had 110 police officers on the evening shift. Today's number is 48 under current staffing levels. The day and midnight shifts are staffed in the low 40s.
An early Ganim hire of JG2, Chapman was tasked with reviewing the city's public safety agencies to improve operational efficiency and service delivery of the police, fire, Office of Emergency Management and Communications Administrative Division for the city.
Chapman had missed several months of work due to illness, but has recently resurfaced, albeit with a two-hour commute to work. His work appearances have been intermittent due to illness and the commute. A mayoral spokesman says Chapman was not compensated for the time missed.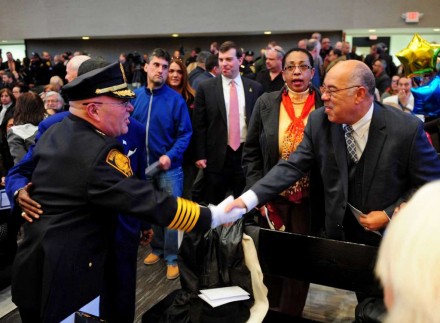 Ganim appointed Chapman as the city's first African American police chief in August 2000. Chapman resigned in 2005 accepting a buyout when John Fabrizi was mayor.
Chapman, a retired New York city police official and former commissioner of the New York City Department of Transportation, joined Ganim on the 2015 campaign trail. After Ganim's comeback election, Chapman was involved in public safety transition team matters.
During the mayoral campaign, as a promise to supportive police union members, Ganim made it known he desired a change at the top of the city's Police Department but former Mayor Bill Finch threw a wrench into that when he appointed Joe Gaudett to a last-minute five-year contract renewal. Rather than an expensive buyout of Gaudett, Ganim negotiated a consulting contract with Gaudett working for the Office of Emergency Management and Communications Administrative Division.
It allowed Ganim to appoint Perez, technically in an acting capacity. So taxpayers are footing roughly $400,000 per year for current and former police chiefs.
To be fair Chapman, as chief, had years when he kept overtime in check, according to a review of records, such as 2001-2003 when OT averaged about $5.2 million per year with an average of 460 sworn officers. Year 2004 was an overtime problem. The next year he was gone.