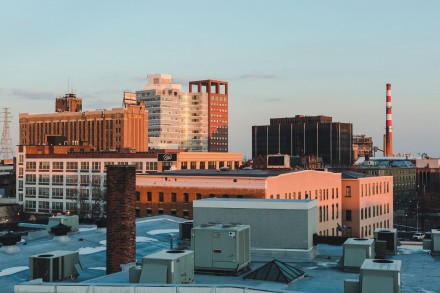 Scott Guilmartin and Daniel Donovan are principals with NU Power LLC, developers of the Bridgeport District Energy Thermal Loop. In this commentary they explain that "using low temperature waste heat is the ideal way to heat or cool cities." They plan an initial investment of $40 million scheduled to start second half of 2018 serving Downtown.

Forward thinking energy experts agree that District Energy (DE) using low temperature waste heat is the ideal way to heat or cool cities. It is cost competitive, efficient and reduces carbon emissions dramatically. It can also help to attract economic development. Amazon for instance, in its recently issued headquarters proposal package, indicated that a city with a district energy system would be viewed more favorably as a headquarters location. Now, a District Energy project is poised to begin construction in Bridgeport next year! The initial project investment is estimated at $40,000,000.

Why Bridgeport? The simple answer is that Bridgeport has a concentrated urban population with a number of existing waste heat sources. In 2013, a leading international engineering firm specializing in DE, identified Bridgeport as a prime host city for this application. The initial service areas will be the south-end and downtown. Over time, the "thermal loop" will expand to other areas of the city.

Pending final approval of a proposal to the Public Utilities Regulatory Authority in the 2nd quarter of 2018, construction will begin later next year on a heating network that will be a game changer for Bridgeport.

DE uses waste heat from power plants to create low temperature hot water that is transported in flexible shallow underground piping to homes, businesses and institutions. Instead of wasting this valuable energy, it is captured to provide heat and hot water. As reported in the United Nations Environmental Program report, "the development of modern and affordable district energy systems in cities is one of the least-cost and most efficient solutions for reducing greenhouse gas emissions and primary energy demand."

So, if you own a home or business in an area of the City serviced by the DE system you will be able to connect at no cost and save money over what you are currently paying for heat. You will be using your existing heating system but you can now turn off your boiler or furnace. Turning off the boiler means less greenhouse gas emissions. When you consider that hundreds and over time thousands of boilers can be turned off, this will have a huge impact on air quality in the City. Approximately 2,000 tons of carbon annually will be removed from local air in the initial project phases.

The project's development has spanned over 5 years and has the support of Mayor Ganim and Mayor Finch before that. The project received a prestigious climate change award from the U.S. Council of Mayors in 2016. The Bridgeport legislative delegation helped immeasurably by supporting legislation that has allowed this project to proceed.

Although a well-established technology overseas, mention district energy or the "thermal loop" to the average Bridgeport resident and you will likely get a quizzical look. There have been a few stories in the Post and Fairfield County Business Journal, but let's face it, pipes and hot water aren't sexy.

That said, it is important for residents to know about and support this exciting project.

To stay informed or learn more visit Facebook.com/nupowerllc or Instagram.com/nupowerllc.