City election officials have registered thousands of voters in this presidential cycle led by the new online registration available at the Connecticut Secretary of the State website. See here. "To use the online voter registration system you must have a current and valid driver's license, learner's permit or non-driver photo identification card issued by the CT Department of Motor Vehicles (DMV) and a signature on file with DMV," according to the web portal. The deadline to register online is Tuesday at midnight.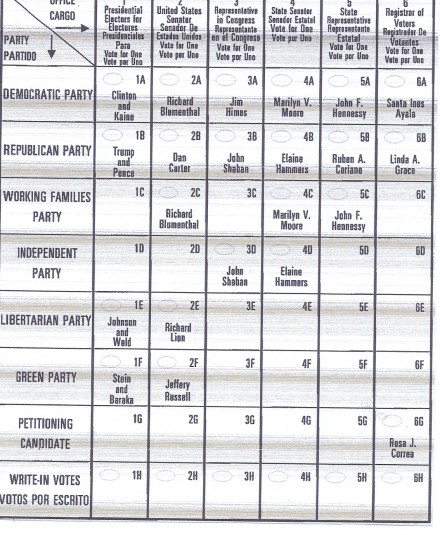 Voter registration always swells during higher-turnout presidential cycles, but election year 2016 has election workers laboring far into the night to process the new applications with a backlog of online requests.
The latest number of registered voters in Bridgeport, with likely another 1,000 or so to process before election day, is 67,033: Democrats 45,120; Republicans 4,047, Unaffiliated 17,519 and others 347.
The city ballot order is President, U.S. Senate, U.S. Representative, State Senate, State House and Registrar of Voters.
State Senate candidates by district:
22nd State Senate, incumbent Democrat Marilyn Moore, Republican Elaine Hammers.
23rd State Senate, incumbent Democrat Ed Gomes, Republican Mike Garrett.
State House races by district:
124th, incumbent Democrat Andre Baker, Republican Jose Quiroga.
126th, incumbent Democrat Charlie Stallworth, Republican Anthony Pizighelli.
127th, incumbent Democrat Jack Hennessy, Republican Ruben Coriano.
128th, incumbent Democrat Chris Rosario, Republican Ethan Book.
129th, incumbent Democrat Steve Stafstrom, Republican Peter Perillo.
130th, incumbent Democrat Ezequiel Santiago, Republican Melissa Borres.