When was the last time the New York City media market showed up in Bridgeport for something positive?
Hornblower Group, the world's leading provider of water-based experiences with facilities in San Francisco, Chicago, New York and London, is centralizing its location in Bridgeport in a partnership with Bridgeport Boatworks where its numerous fleet of vessels will be maintained and upgraded along the harbor.
Monday morning Governor Ned Lamont joined Mayor Joe Ganim, Congressman Jim Himes and other officials lauding Bridgeport's harbor as a hub for regional maritime services at the site of the former Derecktor Shipyards that closed operations about a decade ago.
"This is part of an amazing transformation for an amazing port in an amazing city," said Lamont on a wind-swept day to a throng of reporters from New York and Connecticut.
Hornblower Group operates New York ferry services including harbor sightseeing and dining, and shuttles to iconic destinations such as the Statue of Liberty and Ellis Island. It has entered a long-term lease agreement with Bridgeport Boatworks for vessel maintenance and upgrades expected to create nearly 100 new jobs in the short term complementing the growing footprint of the Steelpointe Harbor redevelopment area in the East End and East Side managed by RCI Group.
The Bridgeport facility will feature a helipad and 700-ton travel lift for hoisting large vessels servicing waterways from Boston to Norfolk, Virginia that require inspections by the U.S. Coast Guard.
Boatworks, launched in 2018, plans to invest $8 million to improve and expand the facility's infrastructure. Officials said no public subsidy is involved with the joint venture.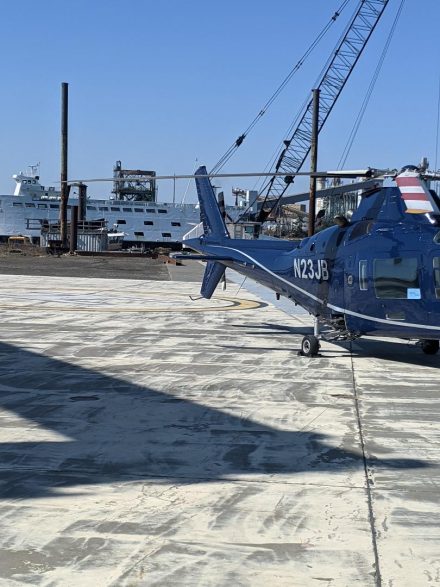 "We are excited about this project," said Hornblower Senior Vice President Tim O'Brien. "Together this facility will serve not only as a destination for maritime operators and businesses but also for high-skilled and well-paying jobs and careers."
Boatworks sits adjacent to Steelpointe Harbor managed by RCI Group.
Harry Boardsen, owner of Bridgeport Boatworks, noted that Bridgeport Director of Economic Development Tom Gill introduced him to Robert Christoph Sr. and his son Robert Christoph Jr. to pursue a joint relationship. "He's (Gill) the reason why this whole thing is going on … We believe in Bridgeport and we believe in this partnership."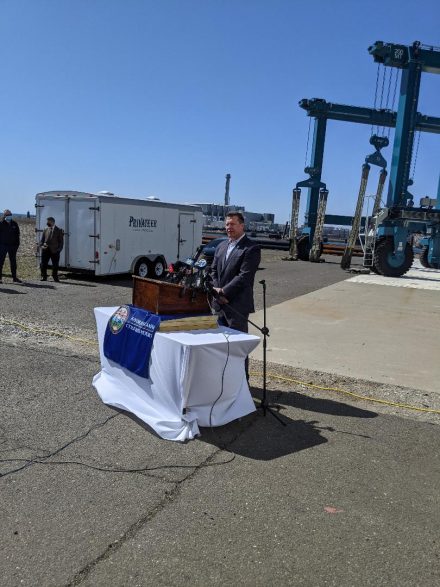 Robert Christoph Jr., president of operations of RCI Group, and his father moved their headquarters from Miami to Bridgeport a few years ago.
"We came to Bridgeport 20 years ago," said Christoph Jr. "We now call it our home … We're excited for Hornblower to now make this one of their homes."
Mayor Joe Ganim added "This waterfront in Bridgeport is one of the premiere waterfront development sites that is up and running and actively seeing activity anywhere along the Connecticut coastline. The opportunities and the jobs that are being created and development that is happening continue to make this not just an attractive site but the best."
"Bridgeport is on the move because of the magnificent combination of the state and federal government and the city working for a renaissance for Bridgeport," said Congressman Jim Himes.
About Hornblower Group
Hornblower Group is the world's leading provider of water-based experiences with headquarters in San Francisco, Chicago, New York and London. The group's expansive portfolio reflects almost a century of sector expertise and innovation, which over time has continually redefined the marine hospitality industry, establishing a portfolio of distinctive award-winning brands across multiple categories including Hornblower Cruises & Events (Dining & Sightseeing), American Queen Steamboat Company and Victory Cruises Lines (Overnight) and NYC Ferry, HMS Ferries and Seaward Marine Services (Transportation). Hornblower also operates the official ferry boat service to Alcatraz Island, the Statue of Liberty National Monument and Ellis Island Memorial Museum on behalf of the National Park Service as well as Hornblower Niagara Cruises on behalf of the Niagara Parks Commission. For more information visit www.hornblower.com

About Boatworks
Bridgeport Boatworks is the New England's newest Yacht and Commercial Shipyard. The third property in a family of Connecticut waterfront operations, Bridgeport Boatworks ownership and management staff are seasoned in yard ownership, management and development. Bridgeport Boatworks prides itself on its growing reputation and a world class Shipyard facility providing outstanding customer service. For more information visit www.bridgeportboatworks.com