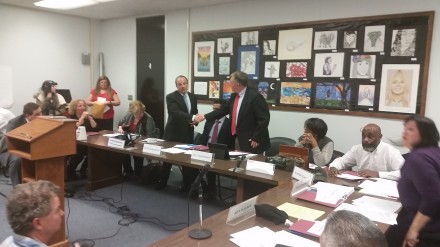 UPDATE: videos from Megan DeSombre, Education Connecticut. In a surprise move transformed as the organizational meeting took its course, the Board of Education Monday night unanimously elected Republican Joe Larcheveque as chair, replacing Democrat Dennis Bradley who had sought another year as leader but pulled out when the votes evaporated. Bradley had dubiously boycotted regularly scheduled meetings demanding board member Maria Pereira's resignation. All nine members, including Bradley, voted for the genial Larcheveque who was praised as someone who could bring the divided board together. Larcheveque pledged to end the boycott.


Bradley entered the meeting confident he had the five votes required for another year as leader. Bradley had factored Larcheveque as one of his five votes. A minority coalition on the board derailed Bradley's plans beseeching Larcheveque to accept the nomination as chair even though he had not expected his name to be entered. Basically they told Larcheveque whether you like it or not we're nominating you.
Mayor Joe Ganim, per City Charter, chaired the organizational meeting to approve a chair. It started when the professorial board member Howard Gardner entered Larcheveque's name asserting he'd move the board in the right direction. Board member Ben Walker, a music teacher in Greenwich, followed up imploring Larcheveque to take the helm. It appeared to surprise Bradley who began whispering in Larcheveque's ear. Pereira, the technical fury, immediately jumped in, declaring Bradley's whispering violated meeting decorum. Walker declared Larcheveque's "experience indispensable … He's a man of stand-up integrity." He urged Larcheveque to lead.
Larcheveque appeared flummoxed.
The quick math showed the coalition of Gardner, Walker, Pereira and Sauda Baraka was enough for Larcheveque to prevail including his own vote. Board member Rafael Fonseca entered Bradley's name into nomination. But it was a ballgame. Larcheveque had the five votes. Bradley reversed course realizing the votes had escaped him. When the votes were tabulated all nine votes were for Larcheveque, which hasn't occurred for a chair in a long time. Baraka was named vice chair and newcomer John Weldon, a Republican appointed by Ganim, was named secretary over incumbent Walker.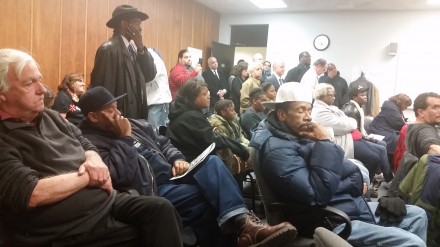 "It's an extremely difficult time for all of us," said Larcheveque, accepting the chairmanship. "It's important we come together … The goal has to be the same, to move forward for the children. Our voices need to be heard in Hartford, in the mayor's office, with the City Council and all neighborhoods … Please, we will come together."
The night did not come together early for Bradley who was castigated during the public speaking portion of the meeting. Education advocate Cynthia Infante criticized Bradley for calling the organizational meeting in a cramped room on the third floor of City Hall. About 50 members of the public squeezed in. A handful of others craned their necks in the hallway. Parent advocate Tammy Boyle called Bradley an "embarrassment." Another, JoAnn Kennedy declared "Your soul will answer to God." Karen Jackson, active in education issues for years, called Bradley "soulless."
Harsh words yes, but they stemmed from Bradley's insistence to boycott regular meetings until Pereira resigns. That strategy failed. You're elected to serve, right? Public speakers blasted Bradley for the boycott, shutting them out, in furtherance of his own political gain. Bradley listened and took the criticism.
Ganim praised the service of acting school chief Fran Rabinowitz who's leaving at the end of month. She had previously announced her resignation because she could not deal with Pereira who she declared was on a "negative crusade" to undermine school progress. But Rabinowitz is bailing and Pereira remains.