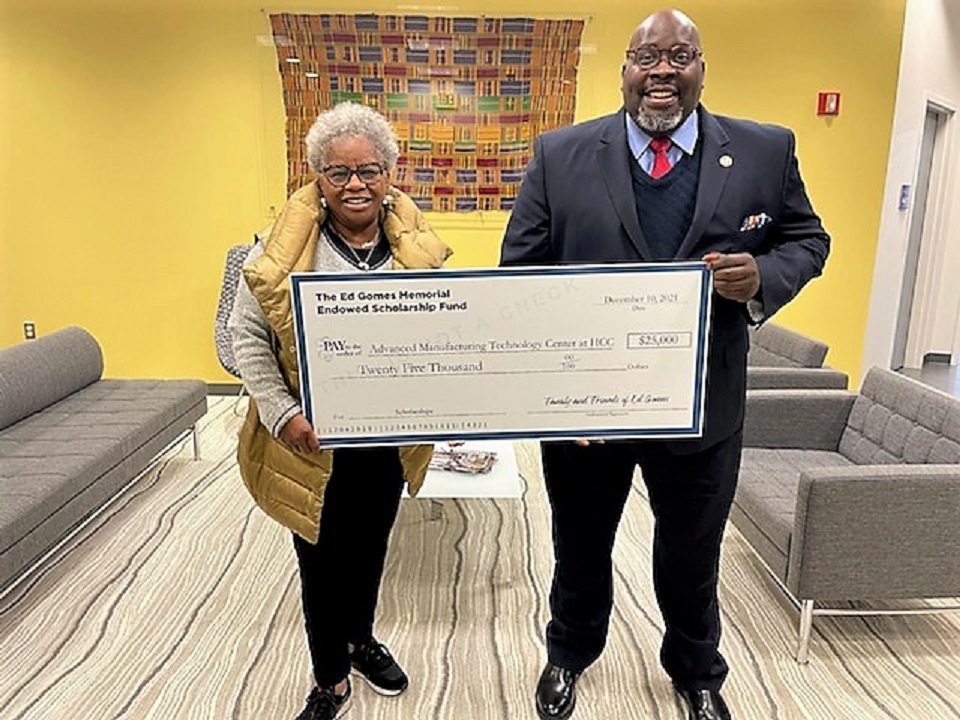 From Housatonic Community College:
Housatonic Community College (HCC) and State Senator Marilyn Moore proudly announce the creation of the Ed Gomes Memorial Endowment Fund. The scholarship fund, established with contributions of friends and colleagues of Gomes, honors the memory of the former state senator and longtime leader in the steel workers union who was highly regarded as a passionate advocate for working families.

The memorial scholarship fund was created to keep Gomes' memory alive after he died from injuries sustained in a car accident last year. A total of $25,000 was donated to the fund, which will continue Gomes' spirit of helping workers by supporting students attending HCC's Advanced Manufacturing Program. The scholarships will be administered by the Housatonic Community College Foundation.

"Senator Ed Gomes was a labor maverick and icon who devoted most of his career working in manufacturing. This scholarship will assist students who want to pursue a career in that field and keep his memory alive in a profession he loved," said Senator Marilyn Moore.

Housatonic's Advanced Manufacturing Program prepares students for in-demand careers that are hands-on and high-tech. The program is designed with input from industry leaders and taught by experts, allowing students to learn state-of-the-art techniques using the most modern technology.

The 10-month certification program was developed in response to Connecticut manufacturers' needs for a highly-skilled workforce. Today, 4,400 advanced manufacturing companies call Connecticut home, accounting for over 10% of the total output in the state.

"We are grateful to all those who donated to this meaningful scholarship fund. Sen. Gomes was a fighter, and these scholarships will give our scholars a fighting chance at a better life by creating a pathway to rewarding and well-paying careers," said Dr. Dwayne Smith, CEO of Housatonic Community College.

"This memorial fund will continue Sen. Gomes' legacy as a force for good for working people," said Kristy Jelenik, Executive Director of the Housatonic Community College Foundation. "His generous spirit will live on, inspiring others to strive for greatness."

To make a donation to the Ed Gomes Memorial Endowment Fund, please visit housatonic.edu/donations or call 203-332-5078. To learn more about HCC's Advanced Manufacturing Technology Program, contact Felisha Guirand-Fleurimond at FGuirand@hcc.commnet.edu or call 203-332-5975.