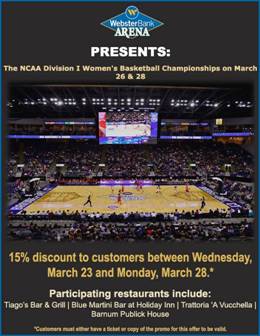 From city Communications Director Av Harris:
Mayor Joe Ganim today is officially welcoming the four teams and thousands of fans of the NCAA Women's Basketball tournament coming to Bridgeport's Webster Bank Arena to view the Sweet 16 and Elite Eight rounds of play tomorrow (Saturday March 26) and Monday March 28, 2016. The Mayor is announcing several festivities and street closures as a result of the tournament basketball games, and special 15% discounts to downtown Bridgeport restaurants available to all NCAA tournament ticket holders for Saturday and Monday's games.

"We welcome all NCAA women's basketball fans to Bridgeport for what will be exciting games for sure," said Mayor Ganim. "Of course, I will be rooting for the UCONN Huskies all the way! But we also welcome teams from Mississippi State, UCLA and the University of Texas and their fans to Bridgeport. Come enjoy all our city has to offer, we will show you good times, great food and drink. This will be a wonderful celebration of scholar athletes and great competition for everyone. Have a great time and may the best team win!"
The following schedule of games will take place for the NCAA Women's Basketball tournament Eastern Regional Finals at the Webster Bank Arena:
Saturday March 26    11:30 a.m.
      No. 1 UCONN vs. No. 5 Mississippi State

Saturday March 26    2:00 p.m.
      No. 3 UCLA vs. No. 2 Texas

Monday March 28      TBD
      Winners of Saturday Games
Mayor Ganim is announcing the following street closures in downtown Bridgeport for tomorrow Saturday March 26, 2016 to ease pedestrian and motor vehicle traffic as a result of the games:
Effective at 9:00 a.m. Saturday March 26th, Main Street in Bridgeport will closed from EAST Washington to Fairfield Avenue until 5:00 p.m. Officers will be in place to allow residents and E-vehicles through. Traffic to be diverted down Water Street, though all residents and motorists are advised that times and locations of street closures may be subject to change.
In addition to these street closures, the Bridgeport Downtown Special Services District (DSSD) is offering any ticket holders to the NCAA games a 15% discount at the following downtown restaurants throughout the entire weekend and Monday March 28, 2015:
· Tiago's Bar & Grill
· Blue Martini Bar at Holiday Inn
· Trattoria 'A Vucchella
· Barnum Publick House
The Bridgeport Downtown Merchants Association is also sponsoring the 2016 Arcade FanFest taking place tomorrow, Saturday March 26, 2016 from 11:00 a.m. until 5:00 p.m. at the Arcade Mall located at 1001 Main Street in Bridgeport. Festivities will include live music and DJ entertainment, face painting, a College Alumni dance-off, food and drinks. All are welcome!