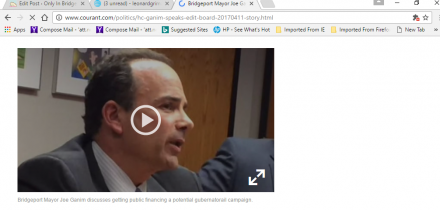 Joe Ganim persuaded enough Bridgeport voters to take him back in 2015. Now he's reaching for a higher bar, convincing Connecticut voters to give him a look as he ponders a statewide run in 2018. Part of that process is meeting with editorial boards of newspapers such as the Hartford Courant.

It appears Ganim is boxed out of participating in Connecticut's Citizens Election Program of publicly funded state races. The state legislature passed a law four years ago prohibiting participation from officials who violate the public trust. Ganim has asked the State Elections Enforcement Commission for a formal ruling. If they rule against him, Ganim may seek court relief on constitutional grounds.
It gnaws at Ganim that he'd have likely been the Democratic candidate for governor in 2002 were it not for the federal investigation that sent him to prison. He can't let it go so after gifted a second chance by Bridgeport voters in historic fashion his ambition is looking beyond the city for the gubernatorial cycle.
Is it a risk that many city voters will desert him? Maybe, especially if they feel Ganim is deserting them rather than feeling grateful for a second chance. This depends on how well he governs. Voters knew about Ganim's ambition during JG1, he was the Democratic candidate for lieutenant governor in 1994, with his eyes set on the state's top office. It did not impact his successful reelections for mayor.
Ganim won't say what statewide office he's seeking, but it's governor he wants, certainly a far-fetched notion. But to Ganim's way of thinking he's already banked nearly $200K for his 2019 mayoral reelection, running statewide is a free run. He has a backup plan for a 2019 run.
It won't be a free-money statewide run, however, if he's denied public financing. He'd have to raise it the old-fashioned way, schmoozing big donations under a cloud of dark money special interests that belies Ganim's narrative of a reformed man.
Ganim's session with the Courant's editorial board wasn't persuasive enough:
Mr. Ganim has considerable political skills, as his re-election proves. He argues, almost persuasively, that public financing is meant to keep elections clean of corruption and that state government should practice the second-chance gospel it preaches with candidates who have made mistakes. He says he'll take his case to court if he has to.

Yes, Connecticut is a second-chance society. But not every offender gets every opportunity. An embezzler is barred from serving as a campaign treasurer for several years, for example.

Mr. Ganim is lucky that Connecticut even allows convicted felons to hold office. Many states don't.

States can also set rules on who gets public funding. Denying it to those who have betrayed the public trust, in order to protect the integrity of elections and the limited pool of money available, seems a reasonable rule.
Read full editorial here.