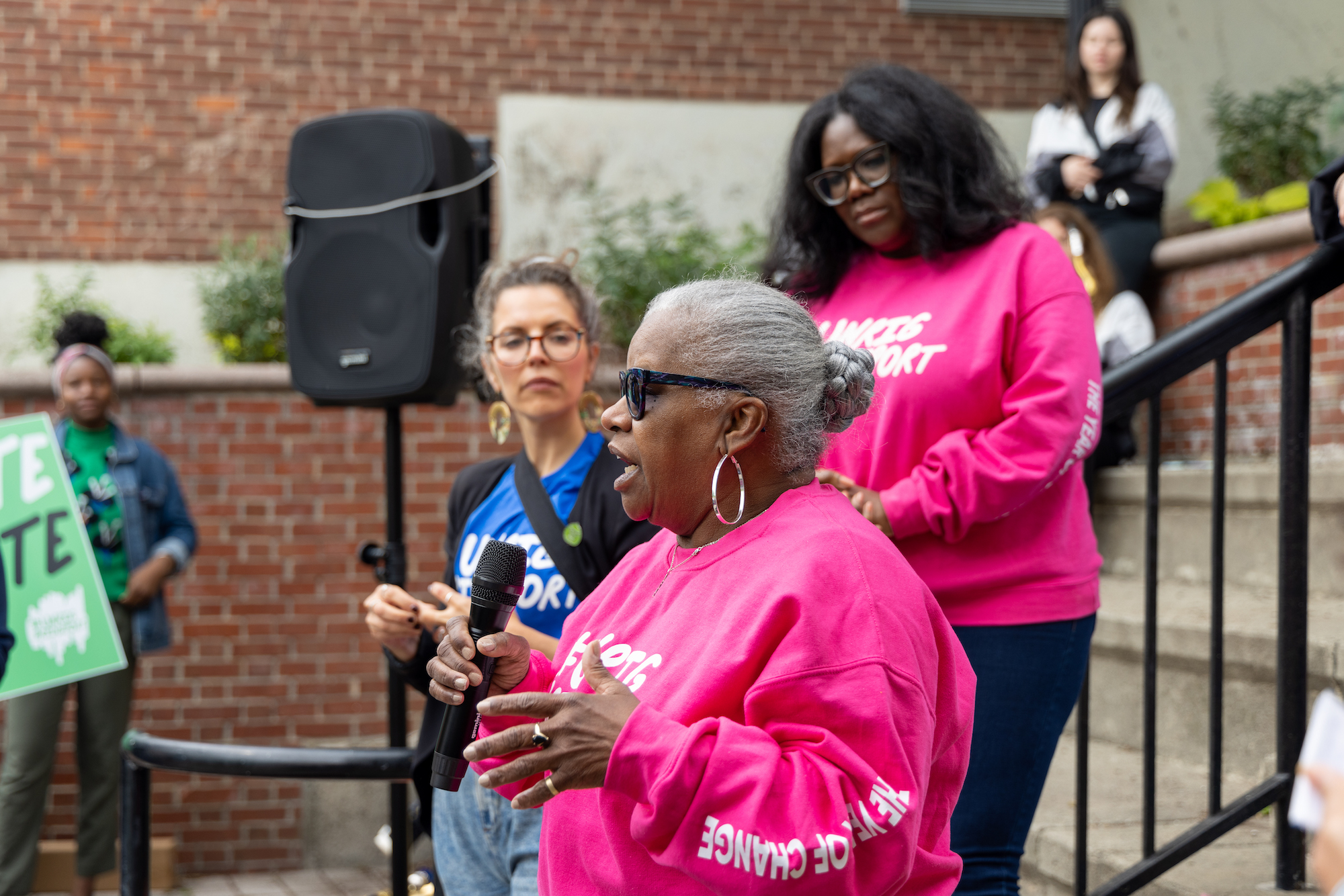 Last week, Gemeem Davis and Callie Heilmann, leaders of the dark-money organization, Bridgeport Generation Now Votes, walked into the Town Clerk's Office and signed out for a record 15,000 absentee ballot applications, a massive haul presumably to mail unsolicited applications to a universe of voters in an anticipation of a September 12 Democratic primary.
The organization is backing State Senator Marilyn Moore for mayor raising eyebrows about potential illegal coordination of campaign expenses including Moore appearing with Davis and Heilmann at a public endorsement in which Gen Now spent thousands of dollars to benefit Moore's candidacy. Gen Now is pledging to spend nearly $100,000 to further Moore's election, but has not disclosed the source of the money, according to its latest campaign finance report.
This latest move by Davis and Heilmann adds another layer to its campaign-involved hypocrisy considering its ad nauseum history complaining about the political establishment's prolific use of absentee ballot voting. Moore has done the same. If you can't beat them, join them, right?
Town Clerk insiders say this is the single largest sign out of applications they can remember.
Under current state law electors may vote by absentee ballot under six circumstances including "sickness."
This cycle, however, comes with added motivation to court absentee ballot voters. As an outgrowth of Covid, the state legislature in 2022 contextualized "sickness" in broader terms so a voter is no longer required to have a personal sickness in order to vote by absentee ballot. The concern, or risk of being sick from in-person voting is sufficient to vote absentee ballot. Connecticut is one of a handful of states that requires excuse-only absentee voting. Early voting, per legislative act, will commence in the 2024 election cycle.
But this broader allowance for sickness has opened the floodgates for political operatives to encourage electors to vote absentee.
Language from Secretary of the State's website:
An official interpretation of the changes made was issued under the powers granted to the Secretary of the State by Connecticut General Statutes Section 9-3 and is consistent with the state's Supreme Court decision in Fay v. Merrill (338 Conn.1), in which the court held that the determination about whether a voter is unable to appear at the polling place on the day of the election is made by the individual voter and that the Connecticut Constitution's language is sufficiently broad so as to allow for voters to vote by absentee ballot when a specific, identifiable disease or disability is present – even when the voter themselves is not personally sick or disabled.
See sample application here
Still, laws exist about dissemination and tracking of unsolicited absentee ballot applications. See state rules governing dissemination of unsolicited absentee ballot applications here
Davis and Heilmann will likely photostat copies of absentee ballot applications and mail them to a targeted universe of 15,000 Democratic primary voters. This isn't cheap.
Bridgeport has roughly 40,000 registered Democrats but the turnout for a mayoral primary will likely be in the 10,000-13,000 range depending on the size of the field.
July 25, the 90-member Democratic Town Committee will endorse a mayoral candidate with incumbent Joe Ganim the prohibitive favorite. Challengers Lamond Daniels, John Gomes and Moore then have a two-week window to scour roughly 2,000 validated signatures of Democratic electors to qualify for the primary.
Campaign camps will place a premium on banking absentee ballots heading into primary day. In Bridgeport most serial absentee voters are courted by the political pros who know their peeps. Some of this is handled at the doors: do you want to vote by absentee? Here's an application to fill out. Senior center events are also mighty prospects. How about pizza, ice cream and an absentee ballot application?
Presto, bango. The applications are dropped off at the Town Clerk's Office which then mails the actual ballot to the voter.
In addition, the radar of political operatives will be on high alert to track who filed an application – it is public information – and message those electors trying to poach votes away from other candidates.
From SOTS website regarding unsolicited dissemination:
Sample Warning Statement for Correspondence Containing Unsolicited Absentee Ballot Applications for any Primary, Election or Referendum

Including this statement with correspondence you send with unsolicited absentee ballot applications constitutes compliance with Conn. Gen. Stats. Sec. 9-140(l):

"Enclosed please find an absentee ballot application, which you may use only if you will be unable to appear at your polling place on the day of the primary, election or referendum for one of the following reasons:

your active service in the U. S. armed forces
absence from town
sickness
physical disability
your religion forbids secular (non-religious) activity on that day
your required performance of duties as a primary, referendum, or election official at a polling place other than your own

It is a class D felony:
for any person not authorized by law to possess the official absentee ballot of an applicant to whom it was issued;

for any candidate or agent of a candidate, political party or committee to knowingly be present when absentee ballot applicant executes an absentee ballot;

to commit a false statement in absentee balloting;

to knowingly misrepresent the eligibility requirements to vote by absentee ballot.