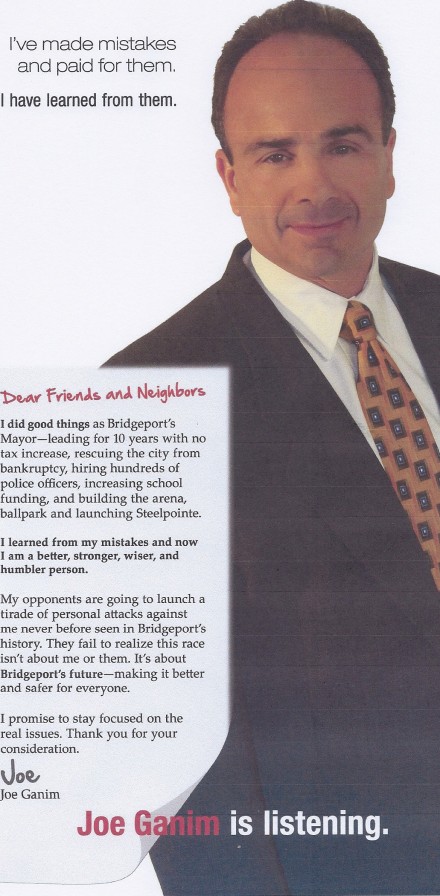 In his first campaign mailer, former Mayor Joe Ganim tries to immunize himself from opponent criticism declaring "I did good things as Bridgeport's Mayor … My opponents are going to launch a tirade of personal attacks against me never before seen in Bridgeport's history." Of course opponents will argue never before in Bridgeport's history did so much intended corruption take place.

The Ganim mailer is backed by testimonial endorsements from the former FBI agent Ed Adams who investigated him: "I know first-hand Joe learned from his mistakes and everybody deserves a second chance;" Town Clerk Alma Maya: "I'm proud to be running on his slate;" and State Rep. Charlie Stallworth in whose East End church Ganim issued his first public apology after maintaining–and testifying under oath–for 14 years he did nothing wrong: "Joe is seeking his redemption in service to all the people of our blessed city."
The mailer also includes a CT Post headline "Ganim gets police union's official support" and a streaming header across the top "Joe Ganim supports a future that works for everyone." Ganim and Mayor Bill Finch have been dueling for slogan supremacy over a city/future "that works for everyone" a reach-out to folks who feel disenfranchised.
Judging by Ganim's political support and support in some neighborhoods, a segment of the Democratic electorate is backing him. There's also a bloc of voters who are giving him consideration but aren't quite sure so perhaps this mailer will reach them. Ganim is a relentless retail campaigner who's touching Democrats across the city to provide him a second chance.
Ganim's opponents will remind voters Ganim's conduct that led to his conviction on federal corruption charges in 2003 was intended and not mistake-driven. In fact, U.S. District Judge Janet Bond Arterton enhanced Ganim's sentence ruling that he lied under oath repeatedly when he declared he did not use his public position to enrich himself.
For more than a decade Ganim maintained he did nothing wrong. It was a flawed strategy that cost him seven years in the joint and also his law license. On January 1, 2015, in Stallworth's church, Ganim calculated that he had to shift his long-standing strategy from doing nothing wrong to admitting in public the jury got it right, if he had any chance for a comeback.
Ganim is trying to qualify for the September 16 Democratic primary against party-endorsed Finch through signatures secured from Democratic electors. Ganim and Finch's 2011 primary opponent Mary-Jane Foster have submitted signatures to the Registrar's Office. About 1900 certified signatures are required for ballot approval. School board member Howard Gardner and three-time mayoral candidate Charlie Coviello are also trying to qualify.
Statement from Finch Campaign Manager Maryli Secrest:
"Joe Ganim is incapable of telling the truth. He lied under oath about his crimes for 16 years, and continues spewing mistruths today.

"The truth is that Joe Ganim drastically increased taxes as mayor, and his corruption cost taxpayers hundreds of millions of dollars. On top of that, he received more than one-hundred and fifty thousand dollars in pension payments since leaving office.

"At Steel Point, Ganim's corruption served as the single biggest setback to creating jobs and growing our tax base through developing the waterfront.

"On crime, the murder rate was nearly double what it is today during Ganim's tenure. And, Ganim's own criminal activity landed him in prison for seven years.

"On the Arena and Ballpark, Ganim's corrupt deal with a contractor cost taxpayers more than $10 million dollars in structural fixes and legal fees.

"We're confident that voters will come to the same conclusion jurors did: Joe Ganim cannot be trusted and isn't fit to serve as the mayor of Bridgeport."