Decades ago a number of insurgents got their start in politics when the Bridgeport Young Democrats was an active organization. Dormant for a long time, several members of the resurrected Greater Bridgeport Young Democrats will try to qualify for the September primary ballot for City Council including Gage Frank, Marcus Brown and Kyle Langan.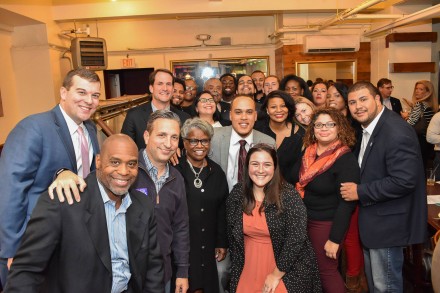 Several members of the organization attended the OIB 10th anniversary party last week Downtown. The group has invited a number of high-profile politicians to address its members including Mayor Joe Ganim who spoke Monday night. See video above, jack your speakers, sound quality not the best. Ganim talked about his early years in politics, his comeback and ongoing city development projects and his race for governor.
Young Dem leadership has often expressed concern about the lack of inclusiveness by the city's political establishment including Democratic Town Chair Mario Testa to cultivate new, young leaders. Mario is old school, he likes cultivating new, young leaders if he knows he has their votes. Otherwise, you're on your own. And in recent years voting trends have moved away from the so-called "Bridgeport machine" that really needs a serious lube job. It's rusty.
Many endorsed Dems have taken a shellacking in primaries. So how do you get the attention of the political establishment? You kick its butt in primaries. That takes a lot of work, building organized opposition, but doable as recent history shows.
Ganim himself took on the party establishment as a young candidate in the late 1980s, first challenging incumbent State Rep. Lee Samowitz in a respectable primary showing and the next year running for mayor in 1989. Ganim finished a surprising third in the primary. (Can you name his campaign manager that year? It was the Big Wave Chris Caruso who spent years in the State House and waged two close primaries for mayor in 2003 and 2007.)
Ganim continued to build coalitions toward winning the mayoralty in 1991 at 32 years of age, defeating Republican incumbent Mary Moran.