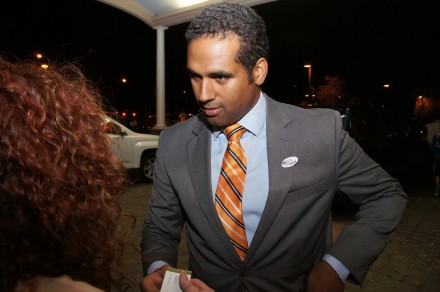 UPDATE: see complaint here. School Board member Dennis Bradley who's expected to receive the endorsement Wednesday night for State Senate in the 23rd District is fending off charges by opponent Aaron Turner of an inappropriate financial overture to a Stratford mayoral candidate. The district includes roughly two thirds of Bridgeport and a portion of western Stratford. Bradley denies the charges.
From Brian Lockhart, CT Post:
State elections watchdogs are investigating accusations Dennis Bradley, a school board member running for state Senate, offered a Stratford mayoral candidate a $5,000 contribution in return for "a position" with the town.
Bradley is hoping to succeed retiring state Sen. Edwin Gomes representing the 23rd Senate District, which includes parts of Bridgeport and Stratford.

According to screen shots of the alleged Oct. 4, 2017 text exchange, included in a complaint filed in late April with the state Elections Enforcement Commission, Bradley was rebuffed by mayoral contender Stephanie Philips and her supporters Shawn Sequeira and Emma Brooks.
Full story here.