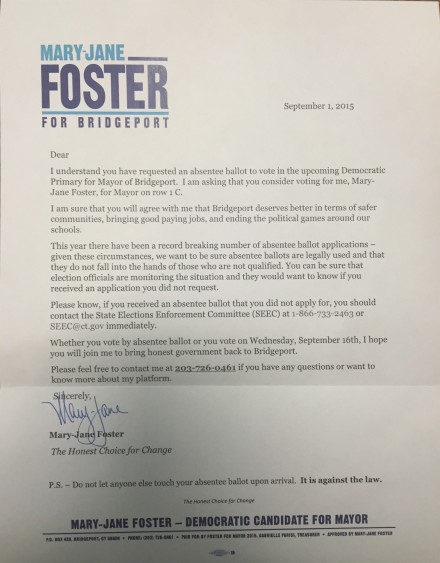 If you receive an absentee ballot and did not request one, Democratic mayoral candidate Mary-Jane Foster wants you to contact state elections officials. In a letter to Democratic electors who could vote by absentee ballot Foster asks for their vote if they receive a requested ballot. Foster's letter closes with a P.S. "Do not let anyone else touch your absentee ballot upon arrival. It is against the law."

From Foster's letter:
This year there have been a record breaking number of absentee ballot applications–given these circumstances, we want to be sure absentee ballots are legally used and that they do not fall into the hands of those who are not qualified. You can be sure that election officials are monitoring the situation and they would want to know if you received an application you did not request. Please know, if you received an absentee ballot that you did not apply for, you should contact the State Elections Enforcement Committee (SEEC) at 1-866-733-2463 or SEEC@ct.gov immediately.
Foster supporter former City Councilman Bob Walsh has filed a complaint with the state elections officials asserting "once again we are seeing the telltale signs of an organized absentee ballot operation aimed at soliciting applications and ballots that do not meet the requirements of law."
Town Clerk Alma Maya asked officials with the office of the Connecticut Secretary of the State that oversees elections to supervise and/or monitor the primary as as a result of the high request for absentee ballots. The state responded back: we cannot supervise the primary, but if you are aware of any funny business file a complaint with the SEEC.
The Town Clerk's Office processes absentee ballots, but the Registrar's Office tabulates them. As a result of the high request for absentee ballots at high-density housing locations Democratic Registrar Sandi Ayala will supervise voting by absentee ballots.