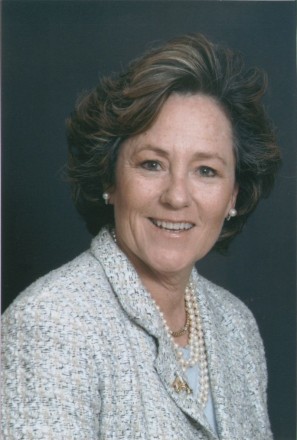 Mary-Jane Foster, co-founder of the Bridgeport Bluefish and an executive at the University of Bridgeport, filed paperwork today for an exploratory committee as she considers a mayoral run. And what a hoot. The committee treasurer is John Guman, former City Councilman and son of Democratic Party Vice Chair Dottie Guman, the Mother Goose of the party.
"The city needs a voice for the long-suffering taxpayer, the jobless and companies that want to stay and grow in Bridgeport. It needs a leader who can build bridges," Foster declared in her statement.

The committee, Foster for Bridgeport, allows her to raise money, $375 maximum personal contribution, and roll the surplus into a full-blown candidate committee where the maximum contribution is $1000. Raising money is key for her race in pondering formation of a candidate committee. She'll need to raise a boatload to compete with Mayor Bill Finch who'll be well financed as he seeks reelection. Former Finch administration official John Gomes has formed a candidate committee as he seeks the Democratic nomination. East End Democratic Town Committee member Charlie Coviello has also formed an exploratory committee. Others could join the party such as former State Senator Ernie Newton.
Guman signing on to the exploratory committee as treasurer will no doubt cause paranoia within the party ranks. Dottie Guman is Bill Finch's political godmother. When he was a heartbeat away from homelessness in the early 1990s she looked after him helping to position him for political and government work. Since Finch became mayor their relationship isn't what it used to be. She's not happy with the way he's governed nor Finch's dismissive treatment of so many who helped him in the past. But barring something dramatic she will publicly support Finch, such is her loyalty. What does Mother Goose think of her son serving as treasurer? "He's a big boy, he can do what he wants."
Foster was a big Finch mayoral supporter in 2007 and served as his transition team chair. She and Finch have had a falling out aided by Finch's venomous comments about the University of Bridgeport that was rescued from closure 20 years ago from an arm of the Unification Church. Finch has a befuddling obsession about the church yet there's zero evidence the church has influenced university operations and in fact the school has made a dramatic comeback from where it was 20 years ago. Finch refuses to visit the university where he once worked. Plenty of high-profile government officials from Jodi Rell to Congressman Jim Himes have lauded UB's education standards and its vibrant economic impact with more than 5000 students and hundreds of employees. Is Foster doing this because of his UB remarks? No. If she thought he was a popular mayor who could get things done she would not be considering a run.
Foster and her husband Jack McGregor (full disclosure: I am his biographer) were the development team that presented the vision for the ballpark and arena sports entertainment complex to city officials. Foster is a strong public speaker and well-liked in the business community. Still, taking on a well-financed incumbent is never easy, and Foster has a lot of work to do to present herself throughout the city as the agent for change. This would also be Foster's first run for public office if she decides to form a candidate committee and seek the Democratic nomination for mayor. Foster has been making courtesy calls to political and business leaders about her announcement, and a final decision about forming a candidate committee could come this spring. Meanwhile, she's testing the waters to raise money and build coalition support.
See Foster's news release below. Caryn Kaufman, who served as John Fabrizi's communications director when he was mayor, is handling media relations for Foster.
Bridgeport Businesswoman Mary-Jane Foster Files Exploratory Committee
"City needs a voice for the long-suffering taxpayer, the jobless and companies that want to stay and grow in Bridgeport. It needs a leader who can build bridges."

Encouraged by family, friends and city voters, Bridgeport businesswoman Mary-Jane Foster today filed paperwork to establish an exploratory committee potentially seeking the office of mayor. Foster vows to fight for hard-working taxpayers, to help city employees improve public safety, education and city services, and attract development to stabilize taxes if she becomes an official candidate for and mayor of Bridgeport.

"We need a fresh start in Bridgeport," Foster said. "Our city requires focus, determination and independent leadership without regard to the next election or making the political establishment happy. We have no economic development vision, our city is poorly managed and in Bridgeport, politics trumps people."

"For over 20 years, I've brought people together to improve the quality of life in this wonderful city. I've created jobs in Bridgeport, served as a volunteer to help abused women and those less fortunate and have worked with a cross section of community stakeholders to get things done. I realize that if I enter the race for mayor I will be the underdog against a well-financed incumbent, but I've spent a lifetime overcoming the odds as a child, a mother and business leader. We can create an excitement in Bridgeport that hasn't existed in a long, long time. What are taxpayers getting for their money? Is the city cleaner, safer, more affordable? Have schools and neighborhoods improved? Does government care about the little guy? Bridgeport deserves better."

Foster and her husband Jack McGregor were the visionaries behind the development of the Ballpark at Harbor Yard and the adjacent 10,000-seat arena that have created hundreds of jobs and serves as an economic stimulus for dozens of area businesses. Foster co-founded the Bridgeport Bluefish and engineered the concept of an arena anchored by a professional hockey tenant in addition to world class concerts and entertainment and national college basketball.

"The city is drifting in a sea of inaction, higher crime, poor services, low employee morale, and poor government communication skills," she added. "And that starts from the top. The city needs a voice for the long-suffering taxpayer, the jobless and companies that want to stay and grow here. It needs a leader who can build bridges with stakeholders, tear down the communication barricades and build relationships around the region and state to position Bridgeport for new development, new jobs and more revenue to stabilize our tax base."

Mary-Jane Foster is the vice president of university relations at the University of Bridgeport. A graduate of Quinnipiac College School of Law, where she was a trustee for seven years and named to their Business Leader Hall of Fame in 2008, she is admitted to practice law in Connecticut and New York. She is a director of Hudson Valley Bank and serves on the bank's Audit Committee. Foster served nine years on the Board of Directors of The Center for Women and Families (formerly the YWCA of Eastern Fairfield County). She chaired their Board for two years and spent four years as the chair of their Investment Committee. During this period, she was certified in Domestic Violence Counseling and volunteered as a Court Advocate for victims. In 1995, she was honored as YWCA Volunteer of the Year by the Conference of Women's Organizations and in 1999 received the Philip Morris Companies Doors of Hope Outstanding Volunteer Award for her work in the area of domestic violence. In 2003, Foster was named the Connecticut Post's Woman of the Year and in 2006 was elected to the Junior Achievement Hall of Fame, one of just a few women to have been elected to this high honor. In addition to her efforts in the domestic violence field, she has worked to provide financial literacy, prevent homelessness and open job opportunities with organizations such as The Bridge Fund, Family Assets, Career Resources, The Entrepreneurial Center, and The Women's Business Development Council. For over 12 years, she has worked with The Fund for Women and Girls to address the critical needs of underserved girls and women in Fairfield County. Foster co-chaired Success by Six, an early childhood education initiative for the United Way of Coastal Fairfield County, for six years, developed an infant through pre-school day care center in Bridgeport and currently serves on the board of Teach for America.

Foster lives in Bridgeport with her husband, Jack McGregor. She has two children, four stepchildren and 12 step grandchildren.

"Over the next several weeks I will continue my dialogue with city residents, community leaders and small businesses to gauge public support and listen to concerns as I make a final decision about seeking elective office. I am very much looking forward to this time and am grateful the opportunity has come my way." she added.

Former City Councilman John Guman will serve as the treasurer of Foster for Bridgeport, Foster's exploratory committee. Guman comes from a long line of public servants and has played an important part in making Bridgeport a better place to live and work.