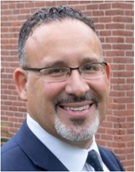 Former Board of Education member Kate Rivera received a response from Connecticut Commissioner of Education Miguel Cardona after she urged him to intervene following the school board approving a three-year contract for Michael Testani to serve as permanent superintendent of schools at $244,000 per year.
When the board hired Testani in an acting capacity last year his contract prohibited him from applying for the permanent position. He also lacked certification for the job.
Peter Yazbak, director of communications for the Connecticut Department of Education, issued this response to Rivera:
Commissioner Cardona has looked into the circumstances today and, given your concern with this matter, he's asked me to respond directly to your email with an update.

Mr. Testani currently holds 092 certification (Intermediate Administration and Supervision) and is taking the necessary steps to obtain the 093 certification he needs to serve as superintendent, as required by state law. Mr. Testani is currently enrolled in a school leadership program to obtain a 093; he is scheduled to complete the program in spring 2020. Under his current contract with the Bridgeport BOE, Mr. Testani will be eligible to serve in the role of superintendent on July 1, 2020, provided he has obtained 093 certification by that time.

To the extent of the Department's involvement in this process, it is our role to determine whether or not Mr. Testani meets the requirements of certification as we would with any other candidate. In our review of the matter today, it appears that Mr. Testani will be eligible for 093 certification and, therefore, eligible to serve as superintendent of schools by the start date indicated in his contract with the BOE.

Going forward, the staff of the Department of Education and members of the State Board of Education will continue to be actively engaged in efforts to assist the Bridgeport BOE with facilitating board orientation, etc. to ensure they have the support to successfully carry out their charge of providing the best educational opportunities for the students of Bridgeport. Please don't hesitate to contact me with follow-up questions.
Rivera response:
Mr. Yazbak,
Bridgeport parents and students are extremely disappointed, but not at all surprised, that the State has chosen to be complicit in the educational neglect of our students and the corruption in Bridgeport. Failing to intervene is immoral. I guess the thought process in Hartford is "Someone has to fill those prison cells so it might as well be poor Black and Brown Bridgeport kids." There are mountains of data showing how this story will end for our children.

If ANY of the staff of the Department of Education or Members of the State Board of Education are under the impression that they are, per your email, "continuing to assist the Bpt BOE to ensure that they have the support to carry out their charge of providing the *best* educational opportunities for the students of Bridgeport" they are not only tone deaf but delusional and should step down from their respective positions.

Your email encouraged me to contact you if I have more questions. I have two.

How are State BOE members and the Commissioner able to sleep at night?

Who is really benefiting from this colossal failure to intervene other than the obvious $80k pay bump Mr. Testani is receiving?

I invite the Commissioner and the State BOE members to come down to Bridgeport to tell our children to their beautiful faces why they are not valuable enough to have what every other child in the state does–an educated, qualified, certified and experienced leader at the helm of their school district.

This is yet another facet of institutional racism setting our children up to fail and it is absolutely abhorrent.

Truly Disgusted,
Kate Rivera, M.A.