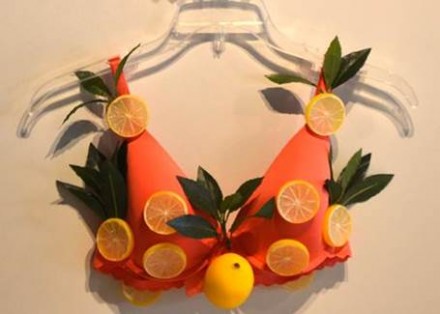 From City Lights:
"BOOBs" Art Exhibit opens October 26 with an artists' reception from 5:30-8:30pm. This event is free and open to the public. The exhibit runs through the annual Bridgeport Art trail and closes December 2, 2017. Gallery Hours W-F 11:30 -5pm Thurs open 'til 7, Sat 12-4 pm.
A provocative exhibit depicts personal stories of breast cancer patients, their caregivers and healthcare providers along with statements about the socioeconomic conditions regarding treatment, healthcare, appearance, gender, age and race.

Exhibiting artists include: Faith Baum and Lori Petcher, Robin Jopp, Karen Kalkstein, kHyal™, Iyaba Ibo Mandingo, Sooo-z Mastropietro, Tori Marsh, Lee Walther, Jahmane West and Francesca Winfield. Under the direction of Gaye Hyre of ArtBra New Haven local participants shared their time and creativity to make artful bra constructions on view, to support breast cancer patients. Help us hold an ArtBra Party, to raise funds for medical costs for breast cancer patients.

More from City Lights here.