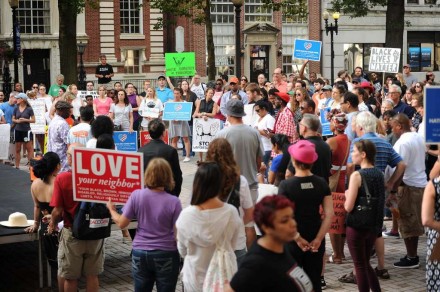 City officials and activists on Sunday joined more than 100 area protesters on McLevy Green in response to racial violence that included a fatal attack and injured dozens in Charlottesville, Va. Attorney General Jeff Sessions called the attacks by white supremacists "domestic terrorism" in lieu of Donald Trump's dodge to directly call out the offenders. On Monday, returning from a golf retreat following mountain ranges of criticism, Trump used this mulligan, declaring: "Racism is evil. And those who cause violence in its name are criminals and thugs, including the K.K.K., neo-Nazis, white supremacists and other hate groups that are repugnant to everything we hold dear as Americans."

More on the vigil from CT Post reporter Bill Cummings:
Ginny McLevy was outraged over the television images of white supremacists beating and punching counterprotestors in Virginia over the weekend.

So the Fairfield resident came to downtown Bridgeport Sunday evening to lend her voice and stand up against hatred.

"It was a horrific terrorist incident," McLevy said of the violence in Charlottesville, Va., home of the University of Virginia. "This has moved me for a long time."

McLevy was joined by more than a hundred others during a vigil at the downtown McLevy Green, which she said is named for a distant relative (former Mayor Jasper McLevy). The event mixed outrage over the white supremacist movement with opposition to President Donald Trump's deportation policies and concern over gay and transgender rights.
Full story here.